I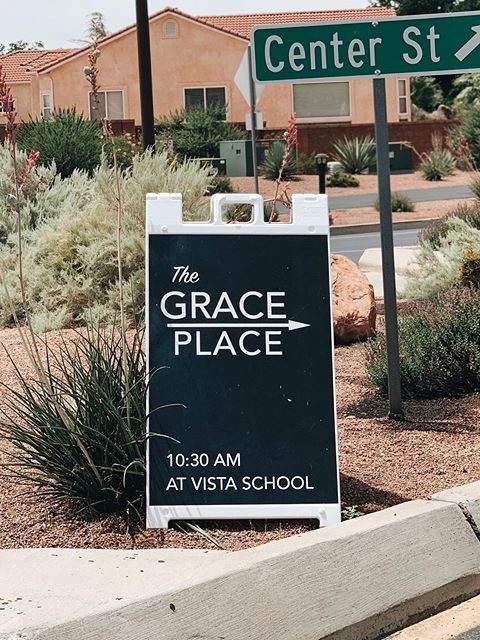 Welcome to The Grace Place in Ivins, Utah. Explore to learn a little about who we are, what we believe, and the ministries we are involved in. Whether you are just starting to explore the truths of Christianity or you have been walking with Jesus for a long time, you and your family are welcome at!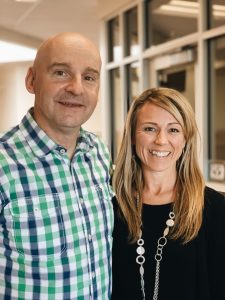 Pastor Harald & Helga Schwaiger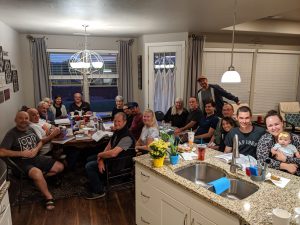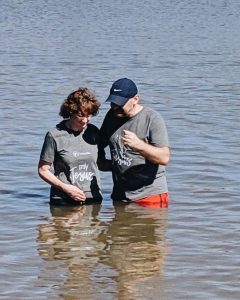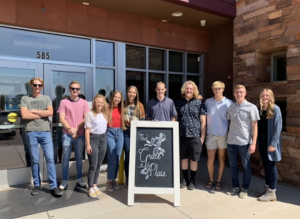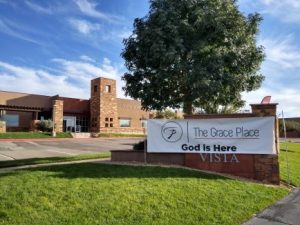 Who Are We?
The Grace Place is a non-denominational Christian Church in Ivins, Utah
On Sunday mornings, we go through entire books of the Bible. We believe that every part of God's Word is powerful and relevant to teach us more about God and help us get to know him better.
Don't get too dressed up, unless you want to! We want you to be comfortable and come as you are, our major desire is that God gets a hold of our hearts. Come and join us some Sunday. We look forward to meeting you.
Where/When Do We Meet?
Sunday morning services begin at 10:30 a.m.
Sunday morning services are held at:
Vista School
585 E Center St
Ivins, UT 84738
Refreshments are served before each service.
Why Do We Exist?
Mission Statement
Together receiving and giving the gift of GOD's grace
What Do We Want To Become?
Vision Statement
We want The Grace Place to be known for magnifying JESUS above all else. WHY? Because…
ONLY JESUS saves lost sinners
ONLY JESUS heals, sets free, and restores
ONLY JESUS equips and empowers HIS children to serve Him for God's glory
What Do We Believe?
Doctrine Statement
We are deeply committed to the Holy Bible for all our faith and practice. We believe the following as a statement of essentials of the Christian faith:
This Statement of Faith does not exhaust the extent of beliefs of The Grace Place. As stated within Article 3, the Bible itself is the sole and final authority for all that we believe. Regular attendees of The Grace Place, will not be required to agree with every point of this Statement of Faith, but instead, agree not to publicly teach against any portion of the Statement of Faith.
The essential doctrines for those who call themselves born again believers in Christ are: 3.1-3.7 inclusive, unless otherwise noted.
3.1 The Holy Scriptures.
We believe the Holy Scriptures of the Old and New Testaments to be the only verbally inspired Word of God, inerrant in the original writings, infallible and God-breathed, and the supreme authority in all matters of faith and practice. The Bible itself, speaks with final authority concerning all truth, morality, and the proper conduct of
humanity. The Bible is the sole and final source of all that we believe (Mt. 5:18; 2 Tim. 3:16-17; 2 Pet. 1:20-21).
3.2 The Godhead.
We believe that there is one, and only one, true and living God. He is the Creator, Triune God, eternally existing in three persons – Father, Son, and Holy Spirit – co-eternal in being, co-identical in nature, co-equal in power and glory, and having the same attributes and perfections (Dt. 6:4; 2 Cor. 13:14).
3.2.1 The Person and Work of God the Father.
3.2.1.a We believe that God the Father who is holy, omniscient, omnipresent, and omnipotent, so loved the world that He gave His Son, Jesus Christ, to become our only means of salvation (Jn. 3:16-18).
3.2.2 The Person and Work of Christ.
3.2.2.a We believe that the Lord Jesus Christ, the Eternal Son of God, became man without ceasing to be God. Having been conceived by the Holy Spirit, He came down from heaven and was made man, born of the virgin Mary, having an absolutely sinless life, in order that He might reveal God and redeem sinful
mankind (Jn. 1:1-2, 14; Lk. 1:35).
3.2.2.b We believe that the Lord Jesus Christ died on the cross and rose from the dead for all mankind as a representative, vicarious, substitutionary sacrifice. And we believe that the sufficiency of this atoning sacrifice to accomplish the redemption and justification of all who trust in Him is assured by His literal, physical resurrection from the dead (Rom. 3:24-25; Eph. 1:7; 1 Pet. 1:3-5, 2:24).
3.2.2.c We believe that the Lord Jesus Christ ascended to heaven and is now exalted at the right hand of God where, as our High Priest, He fulfills the ministry of Representative, Intercessor, and Advocate (Acts 1:9-11; Rom. 8:34; Heb. 7:25, 9:24; 1 Jn. 2:1-2).
3.2.3 The Person and Work of the Holy Spirit.
3.2.3.a We believe that the Holy Spirit is a Divine Person, equal with the Father and with the Son and of the same nature; that He convicts the world of sin, of righteousness, and of judgment; and that He is the supernatural agent in regeneration, baptizing all believers into the Body of Christ, indwelling and sealing them unto the day of redemption. He restrains the Evil One until God's purposes are fulfilled (Jn. 16:8-11; Rom. 8:9; 1 Cor. 12:12-13; Eph. 1:13-14; 2 Thess. 2:7).
3.2.3.b We believe that He is the Divine Teacher who guides believers into all truth; and that it is the privilege and duty of all the saved to be filled with the Spirit; and He bears witness to the truth of the Gospel through preaching and testimony (Jn. 16:13; Eph. 5:18; 1 Jn. 2:20).
3.3 The Total Depravity of Man.
We believe that humankind was created in the image and likeness of God but that in Adam's sin, the race fell, inherited a sinful nature and became alienated from God. We believe that mankind is totally depraved and of himself, utterly unable to remedy his lost condition (Gen. 1:26-27; Rom. 3:22-23, 5:12; Eph. 2:1-3, 12).
3.4 Salvation.
3.4.1 We believe that salvation is the gift of God brought to mankind by grace and received by personal faith in the Lord Jesus Christ, whose precious blood was shed on Calvary for the forgiveness of our sins. Salvation is by grace alone, through faith alone, in Jesus alone, for the glory of God alone (Jn. 1:12; Eph. 1:7, 2:5-10; 1 Pet. 1:18-19).
3.4.2 We believe sanctification is the lifelong work of God, in believers, by which those who trust in Him grow in holiness and are increasingly conformed to the character of Christ. Sanctification begins at the moment of salvation with the giving of spiritual life and it continues by the presence and power of the Holy Spirit through an individual's
ever-deepening understanding of, application of, and obedience to, their relationship with Jesus in their lives.
Glorification is the promised completion of the person's sanctification from the moment they meet Jesus at their death or upon Christ's return (Heb. 10:10, 14; 1 Cor. 1:2; Rom. 12:1-2; Rom 8:34; Gal 5:16; 1 Thess. 5:16; 1 John 3:1-3).
3.5 The Personality of Satan.
We believe that Satan is a person, the author of sin and the cause of the fall; that he is the open and declared enemy of God and man; and that he will ultimately be cast into in the lake of fire, the place of eternal punishment, (Job 1:6-7; Is. 14:12-17; Mt. 4:2-11, 25:41; Rev. 20:10).
3.6 The Second Coming of Christ.
3.6.1 We believe in that 'blessed hope', the personal return of the Lord Jesus Christ for His redeemed ones; and in His subsequent return to earth with His saints to establish His Kingdom (Zech. 14:4-11; 1 Thess. 1:10, 4:13-18; Rev. 19:11, 20:1- 6).
3.6.2 The Grace Place believes and will teach, the imminent return of Christ to be both pre-tribulational and pre-millennial as indicated in Scripture. We do not consider this sub-paragraph to be an essential belief for salvation (1Thess. 5:9; Rev. 3:10).
3.7 The Eternal State.
We believe in the bodily resurrection of all men; the saved to eternal life and the unsaved to judgment and everlasting punishment (Mt. 25:46; Jn. 5:28-29, 11:25-26; Rev. 20:5-13).
3.8 The Eternal Security and Assurance of Believers.
We believe that all the redeemed, once saved, are kept by God's power and are thus secure in Christ forever. However, God's Word clearly forbids the use of Christian freedom as an occasion to the flesh (Jn. 6:37-40, 10:27-30; Rom. 8:1, 38-39, 13:13-14; 1 Cor. 1:4-8; Ga. 5:13; Titus 2:11-15; 1 Pet. 1:5).
3.9 The Two Natures of the Believer.
We believe that every saved person possesses two natures, with provision made for victory of the new nature over the old nature through the power of the indwelling of the Holy Spirit. We believe that all claims to the eradication of the old nature in this life are not scriptural (Rom. 6:13, 8:12-13; Ga. 5:16-25; Eph. 4:22-24; Co. 3:10; 1 Pet. 1:14-16; 1 Jn. 3:5-9).
3.10 The Creation.
We believe that God, acting in all three persons, created the universe and all that is in it, in six literal days. We believe that God gave humankind dominion over creation (Gen. 1; Ps. 33:6; Jn. 1:3,10; Co. 1:16).
3.11 Outreach.
We believe that it is the obligation of the saved to witness, by life and word, the truths of Holy Scriptures.
All believers are to seek to proclaim the Gospel to all mankind. The Grace Place believes that it is the obligation of the local church and all believers to support outreach efforts with time, talent and finances (Mt. 28:18-20; Mk. 16:15; Acts. 1:8; 2 Cor. 5:19-20).
3.12 Marriage/Weddings.
We believe God gave and ordained marriage for the blessing of humankind and for His own glory. Marriage is intended to be a temporal picture of the eternal covenant relationship between Christ and His Church.
Marriage is the foundation and primary building block of the human family because God created male and female in His own image to complement one another. We believe that marriage is defined in Scripture as being only between one born a genetic man and one born a genetic woman. As such, weddings by The Grace Place pastors, leaders or attendees, and/or conducted in any of its facilities shall be conducted in accordance with this biblical truth.
Sexual intimacy is a God-given gift intended by Him to be fully enjoyed exclusively in the context and lifelong commitment of the marriage relationship. According to the scriptural ideal, it is to be broken only by death (Gen. 2:18-25, 19:5-13; Lev. 18:1-30; Rom. 1:26-29; 1 Cor. 5:1, 6:9; 1 Thess. 4:1-8; Heb. 13:4).
3.13 Spiritual Gifts.
3.13.1 We believe that God is sovereign in bestowing of all His gifts. The sign gifts were given to authenticate the message and ministry of the Apostles. Once the authenticity of God's message was established by the completion of God's Word the sign gifts ceased from normative use. We do believe that God, in His providence, is still capable of putting these gifts to use at His discretion (Rom. 12:6-8; 1 Cor. 12:4-11; 2 Cor. 12:12).
3.13.2 We believe God still heals and performs miracles, but it is biblical understanding of The Grace Place that He does not use healers or miracle workers in the first century sense. He performs both in accord with His sovereign will and in response to the prayers of faith offered by His people (Jn. 15:7; 1 Jn. 5:14-15; 1 Cor. 12:11; Ja.5:13-16).
3.14 The Church.
3.14.1 We believe that Christ is head over the Church, which is the body and the bride of Christ, that it had its earthly origin on the day of Pentecost. The Church is a spiritual community made up of all born-again persons, whether Jew or Gentile, of this present age. We believe the universal Church should express itself through regular worship with, service in, commitment to, and accountability to a local church (Acts 2:42-47; 1 Cor. 12:12-14; 2 Cor. 11:2; Eph. 1:22-23).
3.14.2 We believe in the autonomy of the local church, free of any external human authority or control (Acts 13:1-4, 15:19-31, 20:28; 1 Cor. 3:9, 16, 5:4-7; 1 Pet. 5:1-4).
3.14.3 We believe God raises up and gifts a plurality of leaders to serve and care for the local church (Acts 20:17-35; 1 Tim. 3:1-7; Titus 1:5-9; 1 Pet. 5:1-4).
3.14.4 We believe that the establishment of local churches is clearly taught and defined in New Testament Scripture. We believe The Grace Place's role in this mandate is fulfilled by expansion of local churches through church planting efforts (Acts 2:42-47, 1 Cor. 3:5-7, Rom. 10:14-15).
3.15 Church Ordinances.
We recognize two ordinances of the church for this age: communion and believers' water
baptism. They are not regarded, however, as a means of salvation, nor as a means of grace by which special merit is
obtained.
3.15.1 Church Baptism. We believe in baptism by immersion as the preferred method, which is to be observed only after one has been 'born-again' through faith alone in Jesus Christ. Baptism is an outward evidence of an inward spiritual transformation and is encouraged for all believers. (Mt. 3:13-17, 28:19; Jn. 3:23; Acts 8:26-38).
3.15.2 Church Communion (The Lord's Supper). Communion was instituted by our Savior on the night in which He was betrayed. We believe that the cup represents His precious blood which was shed for the forgiveness of sins and that the bread represents His body which was broken and bruised for us. We believe that we should observe communion in remembrance of Jesus until He returns for His Church. Communion is for all born-again believers in Christ, to participate with The Grace Place in this ordinance, provided they have examined themselves and confessed any known sin in their lives (Mt. 26:26-29;1 Cor. 11:23-32).
3.16 Dispensationalism.
We believe Scriptures interpreted in the natural sense, reveal divinely determined dispensations or rules of life, which define man's responsibilities in successive ages. (Jn. 1:17; 2 Cor. 3:9-18; Gal. 3:13-25; Eph. 1:10, 3:2-10; Heb. 7:18-19; Rev. 20:2-6).